Dorothy Viola Inborden Miller
Written By: Devin Grooms-Lee – Great Great Great Great Grandson of Wilson Bruce Evans and Great Great Grandnephew of Dorothy Viola Inborden Miller
Early Life
Dorothy Viola Inborden Miller was born on January 28, 1897 in Oberlin, Ohio. The daughter of Thomas Sewell Inborden and Sarah Jane Evans Inborden, she was one of just 3 of their children who survived into adulthood. Dedicated to her education like rest rest of her family, she graduated from Fisk University in 1919 and received her Master's degree from Columbia University in 1926. In 1920, she married Walker Doyle Miller, a Talladega College and Oberlin Business College graduate, and an accomplished Army Field Officer in WWI.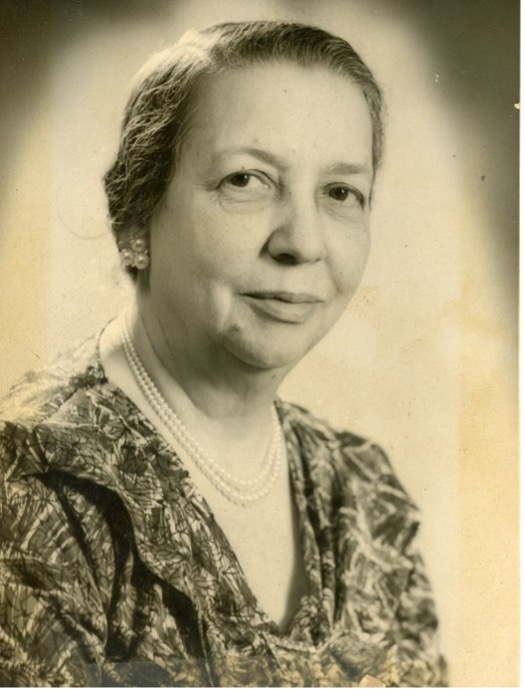 Professional Life
Following her mother's example, Dorothy Inborden Miller had a long and impactful career as an educator. She started as a home economics teacher at Brick College (the first African American junior college in North Carolina, founded by her father in 1895). She then went on to Winston-Salem Teachers College and served as an instructor, 1926-1927. From there she went to Virginia State College, starting as an instructor but soon moving her way up the ranks to Chairman in 1933 in true Inborden fashion. Eventually, Dorothy moved to Washington D.C. where she headed the home economics department of the public schools (division 10-13) for 11 years. Finally, she capped off her remarkable career working as the principal of Margaret Murray Vocational school for 23 years.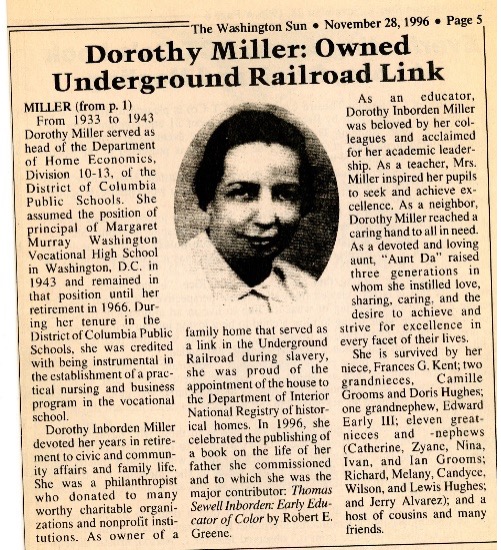 Accomplishments & Leadership
On top of her impressive educational
accomplishments, Dorothy Inborden Miller was an upstanding citizen and leader in the community. Determined to preserve her father's legacy, she commissioned Robert Ewell Greene to write his biography. She also helped designate the Wilson Bruce
Evans Home as a National Landmark
recognized by the Department of the
Interior. For her many years of service, she earned awards and recognition, including a service award from the Federation of Civic Association Community Awards and the Distinguished Ladies in Education Award
from the National Association of Colored
Women's Clubs.
Dorothy Viola Inborden Miller was a woman of great character. Her death on November 9, 1996 was a blow to everyone she touched and a true loss in the community. But, as a role model, she lives on through the countless individuals she taught, collaborated with, and loved.
Sources

Greene, R. E. (1989). The Leary-Evans, Ohio's Free People of Color
(Privately Printed).

Greene, R. E. (1996). A biography: Thomas Sewell Inborden: Early
Educator of Color (Privately Printed).

Rives, R. H. (n.d.). Inborden, Thomas Sewell. NCpedia. Retrieved January
29, 2022, from https://www.ncpedia.org/biography/inborden-thomas-sewell

The Brick School Legacy. YouTube(2011). Retrieved January 29, 2022,
from https://www.youtube.com/watch?v=nr3Uyw76NuY.