The 2nd Annual Meeting of the Wilson Bruce Evans Home Historical Society
Dear Friends and Members,
Please mark your calendar to attend the 2nd Annual Meeting of the Wilson Bruce Evans Home Historical Society on Saturday, September 17, from 11 am to 1 pm in Martin Luther King Park in Oberlin (rain location: the Abram Pavilion, behind McDonald's).
Join us to honor the long struggle for racial justice and some of the remarkable people whose work has laid the foundation for restoration of the house built at 33 East Vine Street by and African American abolitionist and Underground Railroad operative Wilson Bruce Evans. At this fun-filled event, we'll report on exciting developments in our work on the building and plans to turn it into a museum and educational center that will memorialize the Evans family and memorialize the African American experience in Oberlin and beyond. We will also celebrate the National Park Service designation of the home as a site on the National Underground Railroad Network to Freedom and its naming to the National Park Service African American Civil Rights Network.
Our gathering will include a special appearance by Camille Hamlin Allen portraying Mrs. Sarah Jane Leary Evans, the woman who made the Evans house into a 19th-century home. We will also confer awards upon individuals whose dedication inspires our community, including 2022 National Teacher of the Year Kurt Russell, who has taught African American history to generations of students at Oberlin High School; architect Sandra Madison whose dedication to the rehabilitation of the Evans house models the fusion of professional and personal commitment; and Heritage Guardians Linda Robinson Isabel and Marlene Merrill, who have each worked tirelessly to unearth, preserve and share the rich history of Oberlin's African American community. Descendants of Wilson Bruce Evans will be present and greet those attending. A brief business meeting will follow the program, and directions for a self-guided tour of the Evans family gravesites in Oberlin's Westwood cemetery will be available.

This joyful gathering is free and open to all. Please bring your friends and neighbors. New members and volunteers are always welcome. Attendees are encouraged to become members of Evans Home Historical Society to show support for the project and to vote at the business meeting.
For more information, please visit our website at evanshhs.org or contact Carol Lasser by e-mail at manager@evanshhs.org or by phone at 440-935-2998.
Hope to see you there!
Carol Lasser
Manager, Wilson Bruce Evans Home Historical Society
Photos by Carol Lasser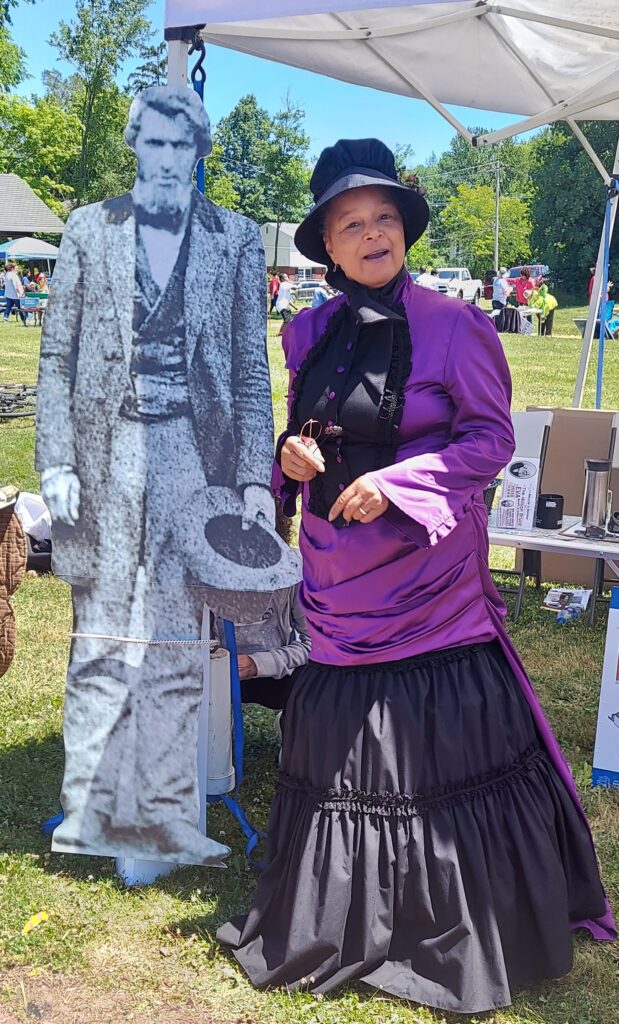 Camille Hamlin Allen as Sarah Jane Leary Evans
Wilson Bruce Evans Home Facade